About this
Residence
Second Spring North was created in 2013 as a Comunity Recovery Residency. Our program provides residents and staff with opportunities to engage with each other in caring, compassionate, excellent clinical, and hope-filled practices, all within intensive, collaborative, safe, and professional environments.
Life at Second Spring
A curriculum of scheduled daily living activities reinforces the goal of engagement between all staff and residents. Being with a safe person in a safe space, while navigating one's ups and downs has therapeutic benefits for many residents striving to gain, maintain and regain regulation and resilience.
Our staff include creative arts therapists, music therapist, registered nurses, clinical manager, cooks and others. All staff are engaged and present throughout the day-to-day interactions with residents and deal with real-life situations. Upon graduation from the program, the SSN community organizes a coin ceremony in which all partake in sharing both a graduation cake and the beautiful stories about the member's journey of recovery.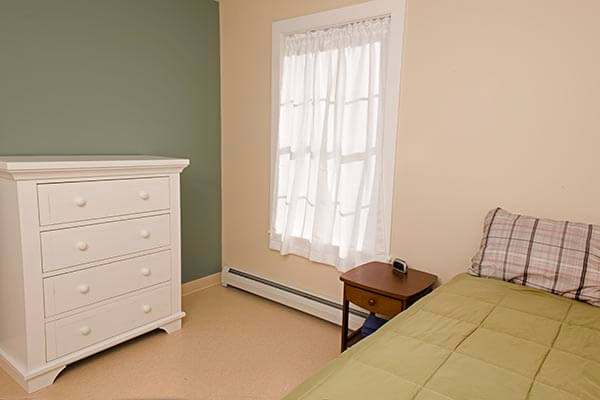 Our Rooms
Each of our rooms is furnished with a bed, dresser, nightstand, chair, pillows, and blankets. There is access to televisions and wifi in our spacious commons areas. All utilities are included in the cost of the room which includes heat, hot water, electricity, laundry, linen services, and more.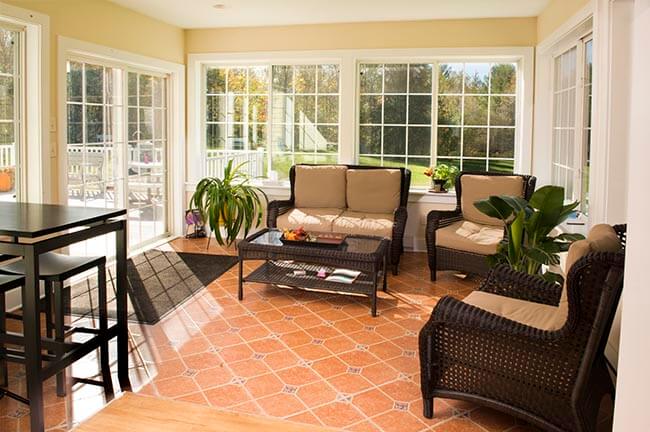 Common Areas
Every resident has full access to all common areas. They are equipped with televisions, stereo equipment, piano, books, computers, and internet access. Whether it is enjoying time with other residents or finding a quiet place to read, our common areas help provide a sense of community.
Contact Information & Directions
Physical Mailing Address:
1071 VT Route 15
Underhill, VT 05489
Phone: 802-899-1328
Fax: 802-899-1329
Second Spring North Gallery
Frequently Asked Questions
Visitation is a right for all residents. Prior notification of the visitation is preferred because this house serves as a home for 8 residents with the right to privacy and confidentiality. All visits occur between 8 am and 8 pm and they follow the guidelines of the CDC, VDH as well DAIL, especially during the times of the COVID-19 pandemic.
Our Program observes core principles of COVID-19 infection prevention, these principles are maintained throughout each of the phases of the LTCF Operational Guidance that DAIL updates regularly. In accordance with current virus activity and the vaccination rates in the community. CSC leadership and SSN multidisciplinary team meet weekly to fine-tune compliance with the recommendation of this guide since the COVID-19 situation evolves. Please don't hesitate to contact us for more information about our COVID Protocols.
Residents at Second Spring come from all walks of life, all residents at SSN are adults who are transitioning from hospitalization to the community. During their stay here, some choose to share their skills with Second Spring North, by taking on a few tasks, such as cleaning, washing dishes, and running groups; others hold jobs in the greater community. VPS pays a resident who works onsite, while residents who work outside get paid by their respective employers.
SSN interfaces with the greater community. Trips outside the program take different shapes; besides medical or therapy appointments, residents can have long or brief visits with family, attend church services, go to a gym, take a short journey to buy or deliver something, and more. Our program provides transportation and sometimes, a resident's level of supervision or family arrangement allows for transportation by someone else.
Here at Collaborative Solutions we acknowledge the integral role that nutrition plays in recovery. So often, those of us who are most vulnerable, also face food insecurity, and malnourishment, yet another obstacle to overcome. More and more, studies are coming out showing the correlation between sound mental and physical health with the choices we make around food. We make every effort to meet our residents where they are at with nutrition and encourage through menu planning and one on one interactions, making one healthy choice at a time because what we put into our bodies affects the core of our beings. Through a program of engagement, education, and empowerment, we help our residents take ownership over these choices which have such a powerful effect on our mental and physical health.
We model these healthier choices with our menu planning. Our kitchens at Second Spring offer lunch and dinner prepared daily, as well as a hot breakfast 3 mornings a week. Additionally, we keep a well-stocked pantry of cold breakfast choices and snacks, as well as a prepared snack twice a day, after lunch and after dinner. We invite our residents to get engaged in menu planning and meal preparation, as well as offering opportunities to learn how to cook, for those who would like to.
Second Spring is able to accommodate food preferences as well as allergies. We work with our staff and residents to form plans around the specific needs of each person.
Our friendly and accommodating kitchen staff are here to make Second Spring a pleasant experience and an opportunity for growth for all residents and staff
In Need of Help?
Referral Process
Have a Question?
Feeling Suicidal?
Chittenden County: 802-488-7777
(Howard Center First Call)
Washington County: 802-229-0591
(Washington County Mental Health Services Screeners)